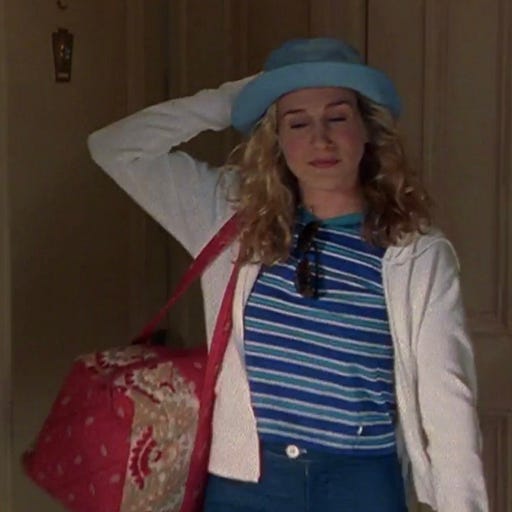 Nov 10 • 1HR 41M
This is not a SATC podcast
Episode 2: Sex and the city's bay of pigs
This is not a SATC is hosted by Subrina Heyink & Jen Semelka. Twice a month, we discuss the themes, relationships, and outfits from every episode of SATC.
This week we discuss Season 1 Ep 3: Bay of Married Pigs. We answer the question: is there a secret cold war between marrieds and singles? I'm lying, we didn't. Instead we discussed the Hamptons "dick in the hall", Miranda's girl bossing, the problems with "the marrying guy", and the difference between American classic and French country.
We made an IG for our "auditory experience"! You can follow us here. The Patreon episode will be up this afternoon. We'll try to send them out at the same time next time.
Most of the resources for finding the outfits in the shows are mostly geared towards Carrie which is such a shame since this cast feels more like an ensemble even though we know that the main character is Carrie. Jen and I have made it our mission to discuss the incredible looks for all of the cast including supporting characters and background characters. If anyone knows a way to get screen grabs, we will greatly appreciate it! Punk ass HBOMAX has disabled this feature and so we have had a nightmare time assembling all the looks for you to follow along.
1.
Thee Vera Bradley bag and this bucket hat
2.
The perfect pjs do not exist??? Then explain this…
3.
Jen points out that Carrie is wearing her sweater in an interesting way. I never noticed it until she said something about it. Did you also miss it?
4. Iconiqa
5.
Controversial opinion: Miranda is not a lesbian icon, she was homophobic.
6.
The gorgeous sheerness of this knit top and how complimentary her undergarments are with it. 10/10.
7.
What to wear to pick up a top of the line cheese grater with a man you describe as, "a flesh and blood version of a DKNY dress."
PS: that side ponytail belongs in hell. Hated it for my sister Carrie.
8.
I wish I could find a picture of Syd's incredible leather bag.
9.
They were praying we wouldn't notice that they changed Samantha's dress. It worked, I didn't notice it, Jen did. Did you notice it?
10.
Left: Could this v-neck be any higher?
Right: The perfect woman does exist. Her hair? hello! And this chemise?? No notes! Is the chemise Valentino Intimo?
11.
Leave the names to your favorite places to shop for lingerie in the comments!
12.
13.
You can see Carrie's flatforms (not wedges) in this. Also! The coat isn't the same as the above photo!
14.
These are the wedges I am referencing in this newsletter and also in this episode. They're vintage Yves Saint Laurent. You can find the exact one here in size US 6.5 for $59. I liked these other wedges from YSL: (US 8), (Narrow US 9), (US 8), (US 6), (US 6.5), (here in what I believe is an IT 38.5 which is US 8.5, brand new!)